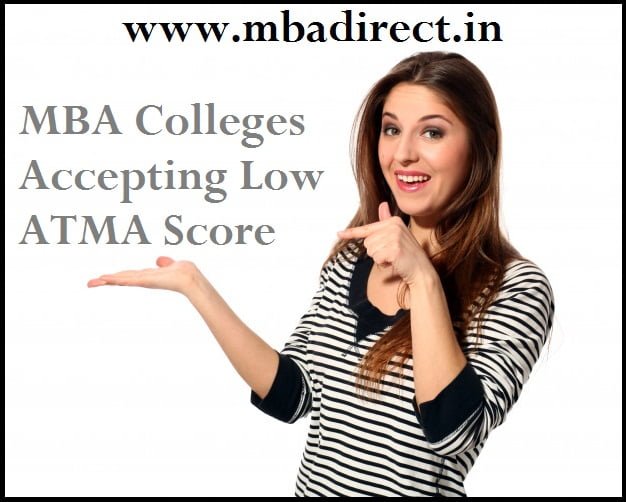 MBA Colleges Accepting Low ATMA Score: Direct Admission
Could not prepare well for ATMA (AIMS Test for Management Admissions) and scoring less in Mock. Consequently Fearing to get Admission in Top MBA Colleges Accepting Low ATMA Score? Well!! Your Search for ends here. A joy full time for MBA Aspirants if you haven't been able perform as per your expectation in ATMA exam. Surprisingly MBA Direct brings to you the List of Top MBA Colleges Accepting Low Entrance Score or Direct Admissions. Hence Opening Doors of Opportunities for MBA admission with low ATMA Score Direct Admissions. Moreover For Some Aspirants Studying Hard with Sleepless Nights to Score high in ATMA Exam, hoping to have high score having their fingers Cross. So This Article will help all with Top B Schools accepting ATMA Score with Cut off, ATMA Eligibility, Fees , Direct Admission. (Direct MBA Admission with Low ATMA Score in Top MBA Colleges).
The AIMS Test for Management Admissions (ATMA) a 3 hrs AI Auto Proctored Test National Exam for graduate management program. Been Conducted by AIMS ( Association of Indian Management Schools) for Admission in their Respective participating B-schools. The ATMA score is accepted by Most of all Top B-schools, University & Institutions.
AICTE Approves MBA colleges accepting low ATMA Score
Moreover AICTE Top MBA Colleges Accept ATMA Scores for Short listing & Screening Students for Admissions. ATMA exam is held 3-4 times in a year in May, July, August and February. Therefore the MBA Aspirants have a greater opportunity to Score and take MBA Admission. Some of the Top ATMA Colleges accepting ATMA Score are Like Welingkar, SOIL Gurgaon, NDIM Delhi, Christ University. Not getting into IIMS`s or any Government College doesn't mean the end of the world and that you are not left with any other option as a result. Also B-Schools like IMI Kolkata, ITM Mumbai, Jaipuria Lucknow, UPES Dehradun, Shanti Business School Ahmedabad, UWSB Ahmedabad, IMIS Bhubaneswar, GLIM Chennai, Jagdish Sheth School of Management Bangalore, IBA Bangalore. Therefore this list of AICTE Top MBA Colleges accounts more than 300+ Business School Accepting ATMA (Direct MBA Admission with Low ATMA Score in Top MBA Colleges.

Eligibility for ATMA Exam
Students Must Fill the form very carefully Specially Category Students should check the eligibility properly before applying to Institutes as they do not provide provision to change the caste after completing the registration. Therefore proper Caste Certificates or other Certificates should be uploaded carefully at the Time of Registration. Also there is No Upper Age limit to write ATMA Exam nor any requirement of Work Experience.
Moreover a Recognize Bachelor's Degree of minimum three years duration or equivalent in any discipline. Those completing their final examination by June 10, 2021 may also apply. All Indian candidates must appear for ATMA 2021. However, NRI and Foreign candidates may apply through ATMA score.
You May also be Interested in
(Direct MBA Admission with Low ATMA Score)
Graduation Appearing Students & Students with Backlog are also Eligible to Apply for ATMA Exam. Therefore they require to complete your final year examination by June 10, and Submit the Mark card same Academic Year.
ATMA Exam has total 180 Questions to evaluates the candidates for ability across various segments. So has 6 Sections with 30 Questions in Each. Hence a single session test with Analytical Reasoning Skills -1 & 2, Verbal Skills-1 & 2, Quantitative Skills-1 & 2 skills test with 30 minutes time for each section. Deduction of 0.25 mark for each wrong answer & +1 for Correct Answer. Therefore there are 50+ test cities.
| | | | |
| --- | --- | --- | --- |
| Delhi | Bangalore | Mumbai | Pune |
| Ahmedabad | Kolkata | Indore | Hyderabad |
| Dehradun | Chennai | Bhubaneshwar | Guwahati |
| Jaipur | Lucknow | Mysore | Raipur |
Direct MBA Admission with Low CMAT Score Colleges List
S.No
ATMA Score Accepting MBA Colleges
Location
ATMA Cut-off (Range)
Fees in Rs (Lakhs
1.
ABBS School of Management
Bengaluru
60
8.1
2.
AIMS Institute
Bengaluru
65
9.3
3.
Alliance University
Bengaluru
75
13.5
4.
Asia Pacific Institute  Management
New Delhi
65
9
5.
Asian School of Business Management
Bhubaneswar
55
6.5
6.
Bengal Institute of Business Studies
Kolkata
55
5.5
7.
J K Business School Gurgaon
Gurgaon
60
5.99
8.
BIMTECH
Greater Noida
70
12
9.
BML Munjal University
Gurugram
70
11
10.
Bharatiya Vidya Bhavan's Usha & Lakshmi Mittal Institute of Management (BULMIM)
Delhi
70-75
6

Direct MBA Admission with Low ATMA Score

11.
Centurion University of Technology and Management
Bhubaneswar
65
3.5
12.
Christ Institute of Mgmt, Lavasa (Christ University)
Pune
50
7.8
13.
MITCON Institute of Management Pune
Pune
50
5.5
14.
Development Management Institute
Patna
65
6
15.
Doon Business School
Dehradun
55
4.8
16.
Dr. D.Y. Patil B-School
Pune
60
6.5
17.
Entrepreneurship Development Institute of India
Dist. Gandhinagar
60
10
18.
Siva Sivani Institute of Management
Hyderabad
65
6.5
19.
GIBS B School
Bengaluru
55
7.4
20.
GNIOT IMS
Greater Noida
50
6

Direct MBA Admission with Low ATMA Score

21.
GITAM Hyderabad Business School
Hyderabad
55
7.2
22.
ICBM-School of Business Excellence
Hyderabad
55
6
23.
IFIM Business School
Bengaluru
70
12
24.
IIHMR University
Jaipur
50
9.6
25.
Indus Business Academy (IBA, Bengaluru)
Bengaluru
75
8.51
26.
Regional College of Management
Bengaluru
70
6.9
27.
Institute for Technology and Management
Navi Mumbai
50
9.3
28.
IMS
Ghaziabad
65
7.9
29.
FIIB
New Delhi
65
8.75
30.
Vignana Jyothi Inst. of Management(VJIM)
Hyderabad
65
7.5
31.
Universal Business School
Mumbai
65
12.1

Top MBA Colleges Accepting Low ATMA Score: Direct Admission

32.
Apeejay School of Management
New Delhi
55
8.5
33.
IIMS
Pune
60
7.2
34.
International School of Business & Media,Pune (ISB&M)
Pune
60
11.2
35.
International School of Management Excellence
Bengaluru
65
8.25
36.
ISBR Business School
Bengaluru
65
8
37.
Jaipuria Institute of Management
Lucknow
70
10.25
38.
Jaipuria Institute of Management
Noida
70
10.25
39.
Kirloskar Institute of Advanced Management Studies
Harihar
65
12.5
40.
KIIT School of Management
Bhubaneswar
60
13.6
41.
Vishwa Vishwani Institute of Management
Hyderabad
60
6.5
42.
M S Ramaiah Institute of Management
Bengaluru
55
7.4
43.
Myra School of Business
Mysuru
55
10

MBA admission with Low ATMA Score: Direct Admission

44.
NSB Academy
Bengaluru
50
5.9
45.
I.T.S College
Ghaziabad
60
16
46.
New Delhi Institute of Management
New Delhi
65
9.7
47.
Praxis Business School
Kolkata
60
9.27
48.
ASM`S IMCOST
Mumbai
70
11
49.
Pune Institute of Business Management
Pune
50
8
50.
Rajagiri Business School
Cochin
55
7
51.
St. Francis De Sales College
Bengaluru
50
2.6
52.
Shanti Business School
Ahmedabad
55
6.5
53.
Globsyn Business School
Kolkata
65
10.71
54.
Kohinoor Business School
Mumbai
60
5.5
55.
IILM Graduate School of Management
Greater Noida
70
10

MBA Colleges accepting Low ATMA Score for MBA Admission

56.
Shri Dharmasthala Manjunatheshwara Institute for Management Development(SDMIMD)
Mysuru
55
11.2
57.
 SOIL, Institute of Management
Gurugram
70
16.5
58.
Suryadatta Institutes of Management
Pune
60
6
59.
Taxila Business School
Jaipur
65
8.5
60.
University of Petroleum and Energy Studies, UPES
Dehradun
70
13.3
61.
IIBS
Bangalore
65
7
62.
VIPS-Delhi School of Business
Delhi
65
8.7
63.
Woxsen School of Business
Hyderabad
55
16.9
Disclaimer* –
Please Note (very Important for all ) That all the colleges in the list are not having any management quota seats. The List is for Listing purpose of List of Top MBA Colleges Accepting Low ATMA Score with Cut off. Admissions is done strictly on merit basis through ATMA. We provide Direct admission in MBA Colleges with Low ATMA Score in subject to availability of management quota/institute level vacant seats in private Colleges/Universities. No Extra Charges apart from tuition fees Charged. So, If you are still not satisfied with the Business school options that you are getting based on your ATMA scores.